Web Services
---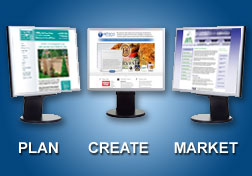 We use our expertise to produce your entire website or collaborate with your in-house production department. Lakefront Media uses a wide range of technology platforms to develop your website. Once your website is completed, our trained staff can maintain and market it for you.
Developing an effective website starts with a clear vision of your target audience and the goals and objectives for your site. Lakefront Media will work with you to insure that we have a firm grasp on these objectives before development begins.  We pay close attention to every detail while working on your website. It is our team of developers and your vision that make a successful web solution.  With proper pre-development planning, your finished website will provide the results you're looking for. Most importantly you will have great return on your investment.
Lakefront Media also utilizes Content Management Systems help to accomplish a web maintenance tasks, which otherwise would require a full-time team of website developers. Anyone with knowledge of basic word processing programs can easily maintain a enterprise level website.
Lakefronts' professionally trained staff of artists and programmers are here to help you design and market your website. Some of our services include:
Programming
Website Hosting
Design Navigation
Database Integration
Online Catalogs

Content Management Systems
Web Site Promotion
Social Media
Site Maintenance
Online Data Collection
Web Traffic Site Statistics
Retrieve site analyzing statistics on you web site
Review the areas of your site that are most visited
Analyze unproductive pages of your site for re-development
Create comprehensive daily, weekly, monthly, quarterly and yearly reports
Compile data on which pages visitors enter and leave your site
Request a Free Quote on your project or call us at 201-818-1455.