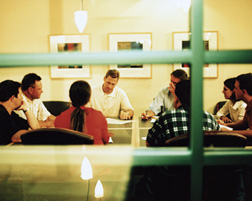 Founded in 1990, Lakefront Media, Inc. is a respected multimedia organization based in Ramsey, NJ Bergen County. Recognized for finding creative solutions to exciting challenges has given Lakefront Media a distinctive edge in their product offerings.
Lakefront Media manages a wide spectrum of media solutions, ranging from website development, medical communications, presentation services, promotional support and creative design. For over twenty five years, our client roster has grown to include well-known fortune 500 companies, as well as many local small to mid-sized firms.
Lakefront Media's dedicated staff of professionals offers technical and creative assistance throughout the development of every project, helping to prepare goals and strategies to the launch of each initiative. We take great pride in being not just a great production firm, but a successful business that understands the pressures that face businesses on a daily basis. We're committed to meeting deadlines and producing results, but most of all staying within your budget; all the things that will take your project from an idea to a reality.